EuroMillions Basketball League 2017 playoff format & calendar
Wednesday 19th April 2017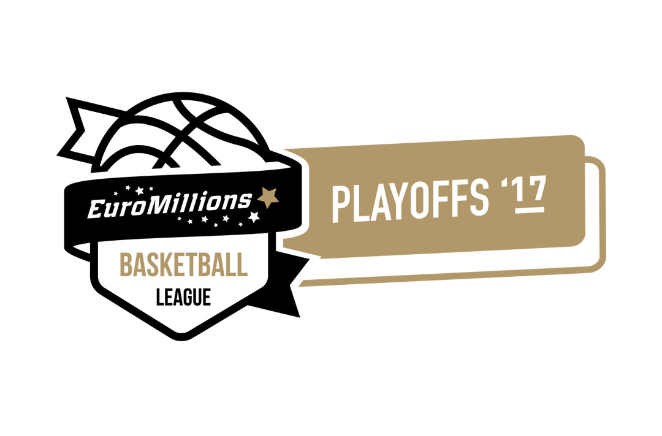 The 8 best ranked teams at the end of the EuroMillions Basketball League regular season will advance to the playoffs which will be played in the following format.
1⁄4 final (best of 3): 1-8, 2-7, 3-6, 4-5
1⁄2 final (best of 5):

Winner of 1-8 plays the winner of 4-5
Winner of 2-7 plays the winner of 3-6

Final (best of 5)
The highest ranked team has homecourt advantage in a series. Underneath are the playoff dates.
Playoffs EuroMillions Basketball League 2016-2017
Wed 17.05.17 1 vs 8 and 4 vs 5; 2 vs 7 and 3 vs 6 game 1
Fri 19.05.17 8 vs 1 and 5 vs 4; 7 vs 2 and 6 vs 3 game 2
Sun 21.05.17 1 vs 8 and 4 vs 5; 2 vs 7 and 3 vs 6 game 3*
Wed 24.05.17 SF 1 game 1
Thu 25.05.17 SF 2 game 1
Fri 26.05.17 SF 1 game 2
Sat 27.05.17 SF 2 game 2
Sun 28.05.17 SF 1 game 3
Mon 29.05.17 SF 2 game 3
Wed 31.05.17 SF 1 game 4*
Thu 01.06.17 SF 2 game 4*
Sat 03.06.17 SF 1 game 5*
Sun 04.06.17 SF 2 game 5*
Wed 07.06.17 Final game 1
Fri 09.06.17 Final game 2
Sun 11.06.17 Final game 3
Wed 14.06.17 Final game 4*
Sat 17.06.17 Final game 5*
* If necessary